Diego Lanau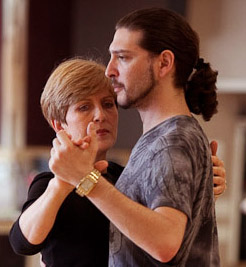 In 1995 Diego Lanau began studying tango with Luis Boccia in the Manuel Belgrano Fine Arts school where Diego later (1999) became a teacher in drawing, painting, sculpture and engraving. In 1998 Diego joined the Mora Godoy group in Club Almagro where he met his first tango partner, Natalia Arcidiacono. Together they studied with Jorge and Marcela Colombo and began performing salon and fantasy style in venues such as Velez Sarfield Club, Boca Juniors and River Plate.
In 2000 Diego entered the Instituto Nacional de Artes (INUA) where he studied folkloric dances such as chacarera and malambo and gained recognition for his skills in tango.
Beginning in 2001, with the help of Negracha, Diego entered the world of the milonga and the close embrace. The Milongero came to be be his principal inspiration. Thus began a new chapter in Diego's career. Under the watchful eye and with the support of many milongueros, Diego acquired a wide repertory of forgotten figures. Key influences were Osvaldo and Coca (World Champions in 2004), Pocho and Nely, Ricardo Bidourt, Enrique "El Gordo" Rosich, Pedro Sanches, Osvaldo "El Oso" Centeno, Pepino "el Chino" Perico and Jorge Kero. Day after day, night after night, Diego and Negracha danced in all of the Buenos Aires milongas, gaining the acceptance, respect and appreciation of the milongueros.
Diego and Negracha gave exhibitions in Confiteria Ideal, Salon Canning, Viejo Correo, Porteño y Bailarin, Club La Argentina, El Arranque, Celia Blanco Tango Club, Niño Bien, Plaza Bohemia, Club Villa Malcom and many others, and had the pleasure of sharing the stage with the most prestigious Buenos Aires orchestras including Color Tango, Los Reyes de Tango, Gente de Tango, Orquesta Sans Souci and Sexteto Milongeuro.
In the early part of their career, Diego and Negracha participated in a variety of tango competitions. They became finalists in the Sin Rumbo Club in Villa Urquiza and in December 2003 were crowned champions, by a nearly unanimous public vote, in Club Saraza.
2006 marked the beginning of international travel with the San Francisco Bay Area their first destination. They were received with great warmth and enthusiasm, were invited regularly to teach and perform, and the Bay Area become a second home. Diego and Negracha traveled to various cities in the USA: San Diego, Los Angeles, Chicago, Cleveland New York, Reno, Lake Tahoe, Las Vegas and Aspen and participated in 2007 participated in the Portland and Seattle festivals. In 2009, their travels expanded to Europe, where they taught and performed in Italy, Spain and France. Afterwards, they returned to Europe in 2010 to participate in the Kerallic tango festival in Bretagne. Also in 2010 they were invited to participate in the Antipanico Festival in the Bay Area where they performed alongside Mariano "Chicho" Frumboli and Juana Sepulveda, Sebastian Arece and Mariana Montes and with Lucila Cinci and Rodrigo "Joe" Corbata.
In early 2011 Diego and Negracha participated in the TESO festival with Jorge Torres. In March, Diego gave his final performance with Negracha in Salon Canning in Buenos Aires. He returned to the Bay Area in May 2011, where he continues to teach and perform.
Diego counts the following among his other notable teachers: Mingo Pugliese, Gustavo Naveira, Nito and Elba, Ezequiel Herrera, Pablo Veron, Osvaldo Zotto, Nestor Ray, Ricardo Vidourt, Graciela Gonzales and Puppy Castello.